6x Angelika v jediné knize (6x Angélique in the only book). All the adventures of the famous lover of the XVII century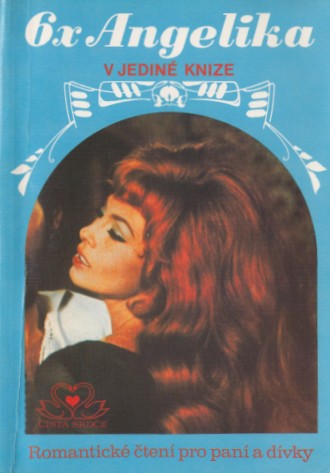 For illegal deeds which earned on the glory of Angélique, there is no need to go too far. Besides the fact that most of these products arose in Russia, where the fictitious heirs of Serge Golon under the names Alex Golon, Xenia Gabrieli, Anne-Marie Nouvo and other, they decently benefited from the ever-popular work and they claimed to the readers that the author is dead long time or even that he was contemporaries of Alexander Dumas, there is also one example in Czechoslovakia.

This single-publication, supplemented by photos from the film, shamelessly used the characters created by Anne Golon - of course without her knowledge. Just to their taste, the authors basically retold and cheaply adapted certain stories. By the way, this work also exists on cassette tape (1991).
PRINC, KAREL. 6x Angelika v jediné knize. Prague: Cesty, 1991. ISBN 80-85363-12-7.




BD Angélique of the France Soir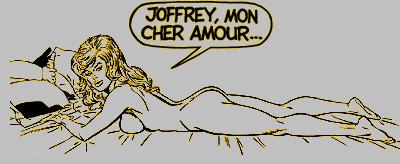 At the beginning of the 60s, the Angélique has become such a phenomenon that soon also appeared as a comic strip in the newspaper France Soir.






Le Pavillon du Tatar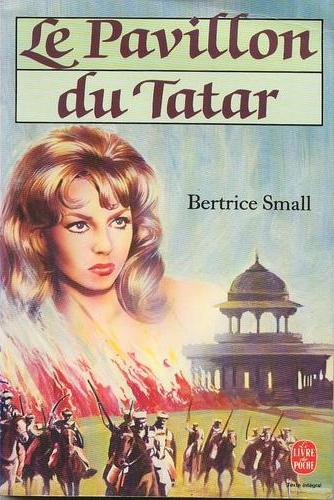 The adventure-romance story by American author Bertrice Small Le Pavillon du Tatar does not have anything to do with the story of Angélique, but it is clear that the illustrator of the book was too inspired by the work Angélique and the King.
SMALL, BEATRICE. Le Pavillon du Tatar. Paris: Editions Livre de poche N° 6001, 1985. ISBN 2253035734.




Le Gerfaut: Un Collier pour le diable
The second part of the novel series by Juliette Benzoni Un collier pour le diable got the book cover inspired by a scene from Angélique and the King again. A pair of Louis XIV and Madame de Montespan, here they have a direct form of film protagonists, Jacques Toja and Estella Blain.
BENZONI, JULIETTE. Un collier pour le diable. Paris: Editions J'ai Lu N° 2207, 1987. ISBN 2277222070.
Japanese manga about the Princess Angélique
Angélique is so popular in Japan that did not escape the local creators of the successful manga. In Japanese terminology, a manga means a comic book in general, while in West terminology it indicates a particular kind of comics, for which is typical the use of the crisp realistic background and stylized figures, irregular using of ambits, etc.

Unfortunately, these interesting creations by Toshie Kihara (1948) were published without the knowledge and consent of Anne Golon, yet there is stated in the manga that it originated according to the French book named Angélique, the Marquise of the Angels. Because it is girlish manga, the author left out the violent scenes (for example the scenes with Nicholas in the barn) and modified the story and characters to more suit the girlish dreams. These comic books were published in five parts in 1978 for the first time, subsequently in three parts in 1995.
KIHARA, TOSHIE. Anjeriku. Tokyo: Akita Shoten, Heisei 7, 1995. ISBN 4253171281; 9784253171281.





Angélique and Joffrey Barbie

On the website www.crawfordmanor.com, we can find a lot of Barbie dolls stylized to known figures of a film, literature and a history. The Barbie doll that was created according to the fictional heroine of the work by Anne Golon, namely according to the part Angélique and the King, it contains a number of the costume details that have correspond to Angélique's dress for a royal hunting. Another costume for Angélique corresponds to Angélique's famous gold dress with which she charmed the King. Later, there was added a figurine of Joffrey de Peyrac. More details on the thumbnails figurines of Angélique and Joffrey.